While many of Dgroups Partners are using the same groups.io platform, and while many groups may serve various purposes at the same time, online groups can usefully be classified in a typology of seven use cases.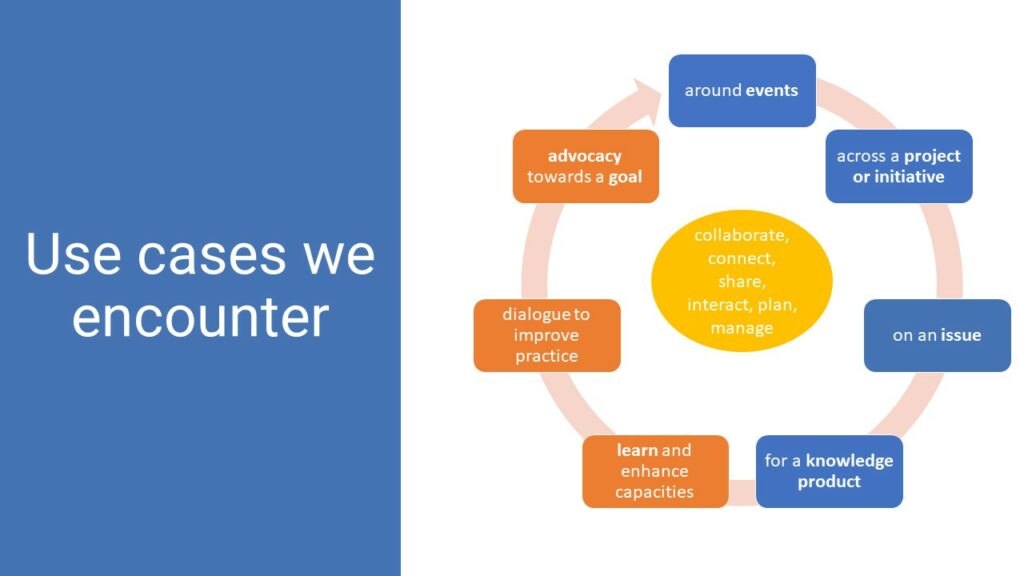 Events are a particularly critical use case, as they provide a valuable opportunity for individuals and organizations to come together and exchange knowledge and ideas. Online groups can help facilitate the organization, management, and follow-up of events, making them an essential tool for knowledge sharing.

Projects or initiatives are another important use case for online groups, particularly for those working across different organizations or on different objectives. Online groups can provide a mechanism for sharing and collaborating on information exchange, helping to ensure that everyone involved is on the same page.

Online groups can also be used to facilitate collaboration around issues that individuals or groups are interested in. This can be particularly valuable for those who want to connect with others who share their interests and work together towards a common goal.

Knowledge or learning products are another important use case for online groups. By bringing people together to co-create or co-edit a product, these platforms can help ensure that everyone involved has a voice and that the final product is of high quality.

Further, online groups are used for learning and capacity development – to share information and lessons to complement training, mentoring, or other educational efforts.

Online groups are also essential to achieve purposeful engagement and dialogue to discuss issues in greater depth. This may involve a question, challenge, or opportunity. The purpose of these dialogues is to advance a particular practice, research, or solution by reinforcing, extending, or validating the conversations.

Finally, online groups can be used for advocacy towards a particular goal or objective. Whether it's advocating for a particular policy or organizing a group to take action on a particular issue, online groups can help individuals and organizations mobilize and make their voices heard.
Each use case involves a specific purpose and requires different approaches for using online groups to support collaboration and knowledge sharing. Selecting group tools and functionality that may be most appropriate to achieve the desired outcomes is also critical.
---
Talk to us if you look for advice, coaching, and support in your work with online groups and communities