As part of a virtual discussion around online collaboration use cases, the Dgroups Foundation recently organized a 'peer assist' session to explore ways to maximize the use of online group features to support face-to-face and other events.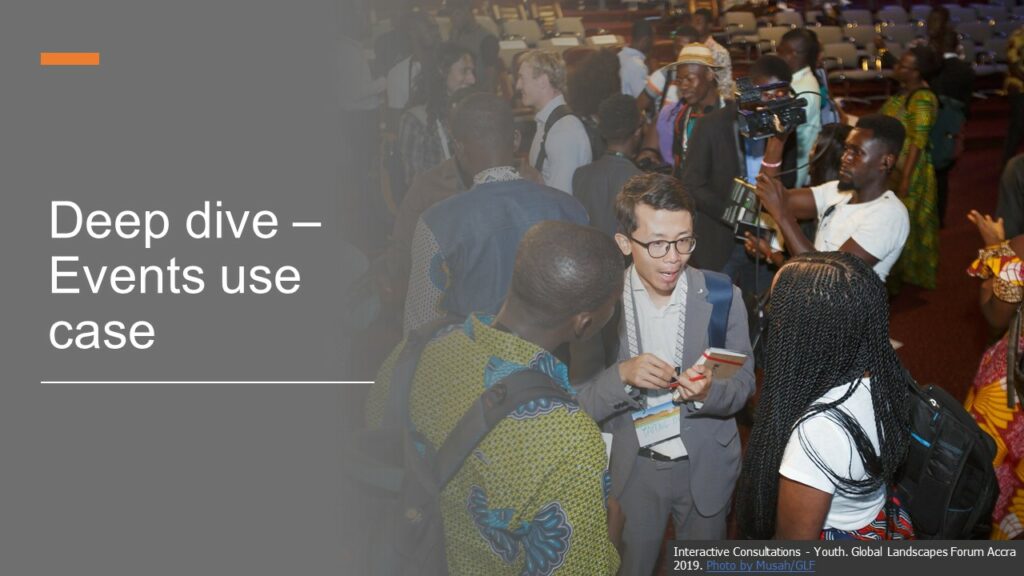 Jessica Ball brought the questions. She works as part of the KM Team in the UN-REDD programme. Last year, Jessica started an online community, coinciding with a two-day event in Rome, where representatives from all regions came together – but not all members of the virtual community could join. Jessica admitted that they were a bit late in starting the group and didn't have much time to engage people before the event. They tried to connect with online group members through summaries after day one and through a final summary of day two. Despite these efforts, she asked how they could more effectively engage the community around different online and in-person events.
What could be done differently, to support upcoming and future events?
Pier Andrea Pirani was the peer assistant. He offered an example from a project he was involved with as part of a larger team supporting a three-day, face-to-face, experience capitalization workshop. The workshop was preceded by a two-week online engagement beforehand, covering a lot of ground and mapping people, expertise, potential connections, and what was needed. By doing so, both participants and the facilitation team went into the workshop with a head start, and by the end of the workshop, it was possible to produce a significant list of products, some in draft, and some still in a conceptual phase.
5 key elements to support events
Engaging a group around events requires careful planning, clear aims, and engagement before, during, and after the event.
Set a clear purpose: Define what you want to achieve through the online interaction, and make sure it adds to the event and brings value.

Plan carefully: Keep in mind the needs and expectations of the group. Consider the format, duration, and resources needed – and be realistic with the time and resources available.

Engage before the event: Engage with the participants ahead of the event to build connections, gather insights, and prepare for the event. Use this time to map people, expertise, and what is needed. This can help finalize an event agenda and preparations. It can be useful for both logistics as well as on the substance of a meeting.

Engage during the event: Use the group as a space to reach out to people that cannot attend the event, and to share knowledge, documents, and additional information generated or discussed at the event. It's important to have the right expectations and motivators so useful engagement can take place. Often, some form of curation and facilitation is necessary.

Engage after the event: Follow up with the community after the event to share outcomes, gather feedback, and plan for future events. Keep the connections warm and use the face-to-face meeting as a springboard to foster online participation post-event.
Particularly where several events are planned, such online support helps to link people, support continuing discussion threads and conversations, and guide attention to agreed follow-ups, plans, or previous documentation.
Events can be a powerful tool to engage and support online groups – and online platforms can really help in supporting and complementing events. By setting clear goals, planning carefully, and engaging before, during, and after the event, communities can be brought together to share knowledge, collaborate, and work towards a common goal.
---
This is the second of a series of short posts from the discussion. The other two posts cover:
---
Talk to us if you look for advice on online support and interaction around events